Week Three is here! Let's recognize more talents.
CHICAGO BEARS VS. ARIZONA CARDINALS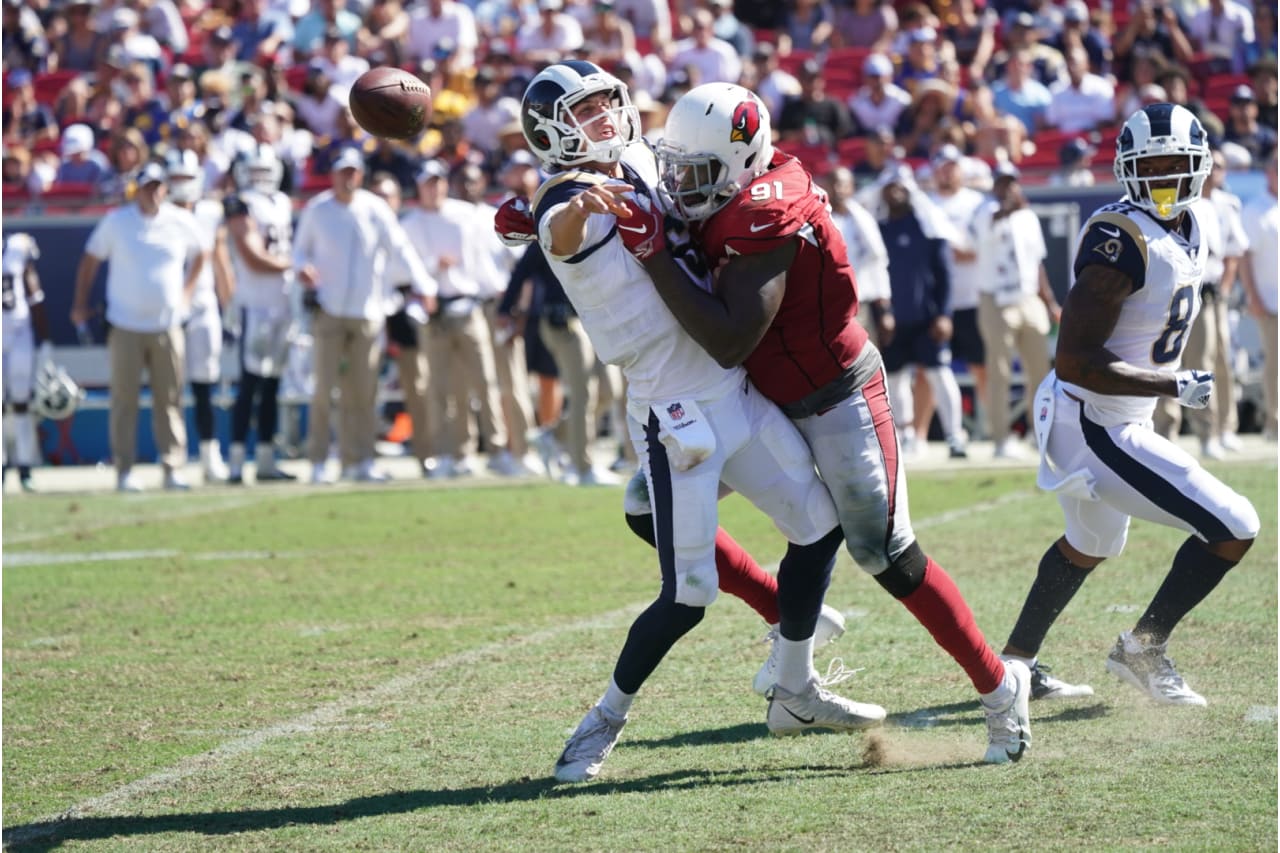 Benson Mayowa/azcardinals.com
The matchup between the Bears and Cardinals is not the most glorious showcase of Week Three. However, whenever NFL Regional Combine standouts clash, their matchup should be recognized.
Chicago Bears defensive tackle Roy Robertson-Harris has been a terror thus far this season. He has provided depth in the middle for which the Bears have been looking to allow their edge rushers to wreck havoc. Robertson-Harris credits his offseason training for helping him to be effective.
"Did a lot of strength training," said Robertson-Harris, according to Pro Football Weekly. "Trying to get stronger and make sure I can take on double-teams and things like that. Last year I was at 285. Now I'm 295, and I don't want to be big and fat, so I wanted to make sure 295 is also coming with strength."
Robertson-Harris' play has been noticed as he tallied four tackles, including a sack that nearly ended the Green Bay Packers' season when he brought down quarterback Aaron Rodgers on his knee in Week One. All-Pro linebacker Khalil Mack has benefited from the RC pioneer's presence up the middle as he can solely focus on attacking the quarterback and make plays.
Arizona Cardinals haven't won a game yet, but they have a few bright spots and defensive end Benson Mayowa is one of them.
Mayowa has been all over the field making plays, especially in Week Two when he blitzed the Los Angeles Rams for seven tackles, including two sacks. Mayowa signed a one-year deal with the Cards during the offseason and he is on track to have a career season. Against the Bears, Mayowa should continue his frenzy.
So, who will get to the quarterback first between Robertson-Harris and Mayowa? Both players will have an impact, but one will come through for a major play. Keep watching!
Copeland signed with the New York Jets  this offseason, and he finally earned the opportunity to get involved early and often with the defensive unit instead of special teams.
Against the Miami Dolphins in Week Two, Copeland got his second career sack. In 2015, Copeland had his first career sack, which came against the Bears in Week Six. Copeland is a hybrid linebacker who possesses speed, balance and power. The Jets will need every bit of Copeland's skill set against the redefined Cleveland Browns Thursday night.
After his experiences with the NFL Regional Combine platforms, the Veteran Combine, several teams and a short stint in the Arena League, Copeland is mentally ready for the next level.
"Mentally, I just hadn't flipped that switch yet. 'I'm a beast, I'm a savage, I'm unstoppable,'" said Copeland, according nj.com. "So I think now, when I step out on the field, ever since having to sit out and come back, I step out on the field like nobody can touch me and that's the biggest difference."
KICKING SHOWDOWN IN BALTIMORE
Two Super Bowl winning kickers will have an opportunity to win the game for their clubs – Baltimore Ravens' Justin Tucker and Denver Broncos and RC's own Brandon McManus.
Tucker is widely considered one the league's best, however, McManus is just as clutch. Both kickers have not missed any of their attempts this season. Both kickers are weapons that can be relied on. McManus kicked the game-winning field goal in Week Two to defeat the Oakland Raiders and chances are the Broncos will need him in what is expected to be a highly contested defensive matchup.
WHO ELSE?
-Jacksonville Jaguars wide receiver Keelan Cole was huge against the New England Patriots in Week Two as he caught seven passes for 116 yards and a touchdown. Cole recorded 100-plus yards in three out of his last five games. In his last three divisional matchups, Cole tallied 268 receiving yards (89.3 per game) and two touchdowns.
This streak is expected to continue.
-Minnesota Vikings wide receiver Adam Thielen has been dominant in his last four home games as he amassed 316 receiving yards (79 per contest) and a score. After lighting up the Packers in Week Two, Thielen should duplicate a similar output.
Seth Roberts/Raiders.com
-There was a Seth Roberts sighting in Week Two when the Raiders took on the Broncos. Roberts was the only Raider to score a touchdown in that contest. If Raiders quarterback Derek Carr targets Roberts more, the Raiders will move the ball down the field more since Roberts can work the middle of the field better than people believe.
Roberts should continue to roll against the Miami Dolphins in Week Three.