Week Five of the NFL season played out with its normal outcomes – upsets. From both ends of the matchups, NFL Regional Combine pioneers gave their best efforts.
SMITH TAKES OFF
There is nothing like being used and appreciated by a team, especially when they knowingly can be an asset. Wide receiver Vyncint Smith is one of those individuals with tons to offer and the New York Jets quickly experienced some of the second-year receiver's abilities.
Against the Philadelphia Eagles, the Jets trailed and looked for a spark. Although the spark did not turn into a wild fire, Smith displayed that he can be like lightning in the bottle.
With 14:40 remaining in regulation, the Jets had first-and-10 from the Eagles' 19-yard line. Smith was lined up on the right outside of the field. In the pistol formation, Jets quarterback Luke Falk received the ball from shotgun and Smith ran to Falk for the hand off on a reverse.
Jets running back Le'Veon Bell applied a block and Smith took off at 21 miles per hour, according to Next Gen Stats, for a 19-yard touchdown run.
That score was the Jets second offensive score of the season. For the NFL Regional Combine pioneer, this was his first touchdown of this NFL campaign, but his second score of his young career and both came against the Eagles.
Last season, Smith was with the Houston Texans and caught a 35-yard touchdown pass in a critical matchup against the Eagles in Week 16. Smith entered this year on the Texans' practice squad before the Jets signed him in mid-September.
With the return of Jets quarterback Sam Darnold to the starting lineup, Smith will be a frequently crossing the goal line.
Jets defensive end Kyle Phillips had a tackle and a pass defensed.
UNSTOPPABLE THIELEN
After some tension between the core players of the Minnesota Vikings offense, they came to play against the New York Giants, and Vikings All-Pro wide receiver Adam Thielen led the charge.
"All you can say about that is we got the W," said Thielen. "It shows what kind of guys we have in this locker room. (Cousins) doesn't care about what people say about him. He just goes to work. He grinds. He wants to the best football player he can possibly be, and he wants to help this team win games."
Out of eight targets, Thielen caught seven passes for 130 yards and two touchdowns.
Thielen's first touchdown came at the start of the second quarter as he caught a 15-yard toss and fashioned another score in the third quarter with 4:58 left off a nine-yard pass.
Thielen has been an example of consistency since he entered the league. Following a solid outing, Thielen is ready to get back to work.
"My preparation was the exact same, this week and last week," stated Thielen. "I have a rhythm and routine that I've stuck with for five years now as a starter. I go about my business. I go to work. I keep my head down. The results aren't always predictable."
RAIDERS RC PIONEERS SHINED AGAINST BEARS
As expected, Oakland Raiders defensive end Benson Mayowa would get his hands on Chicago Bears quarterback Chase Daniels.
With 8:28 left in the first half, the Bears faced third-and-6 from their 24-yard line. Daniels received the ball from shotgun and started to drop back. Mayowa was lined up on the edge, and beat tackle Bobby Massie into the inside to blitz Daniels up the middle and crushed him.
The sack forced the Bears to punt.
Raiders offensive tackle Denzelle Good helped pitch a shutout against the elite Bears' front seven. Raiders quarterback Derek Carr kept clean as Good and the crew did not allow a sack. That was huge for the Raiders in a contest their were not given a chance to win.
Raiders wide receiver Trevor Davis is getting comfortable in this offense and he is going to be something special.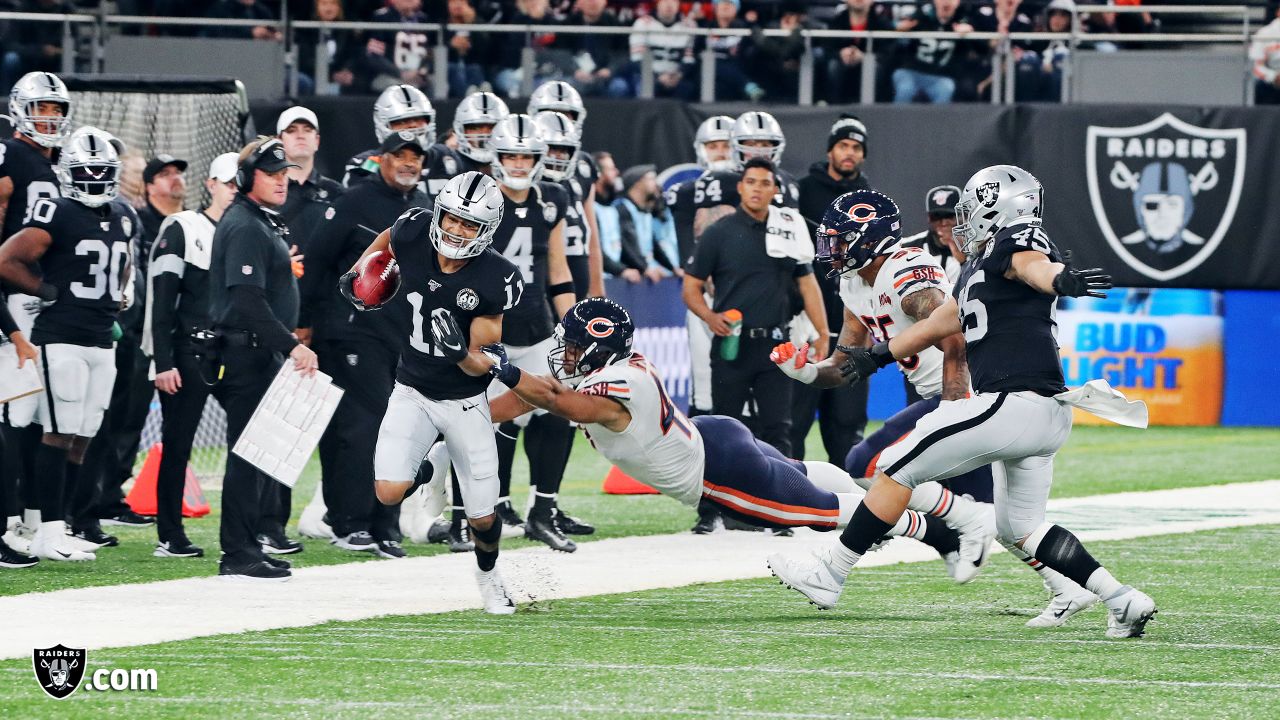 Carr got the ball to Davis early as he caught all four of his targets for 42 yards. He was close to scoring again, but unfortunately he fumbled crossing the goal line after receiving a short pass from the Bears' 2-yard line.
Bears defensive end Roy Robertson-Harris finished with four tackles.
RUNDOWN
Denver Broncos kicker Brandon McManus came through for us squad as he sealed the Los Angeles Chargers' chances for a comeback with a 46-yard field goal with 2:00 left in regulation.