Week 16 of the NFL was all about either securing a playoff spot or earning a better seed position. All hands needed to be on deck and feet in bounds because it was a wild ride with a couple NFL Regional Combine standouts on board.
SMITH TO THE HOUSE
Enduring the process can be difficult, especially in the absence of belief. Houston Texans rookie wide receiver Vyncint Smith has bore the hardship of doubters and disappointment. After experiencing success at Limestone College and having a solid workout at the NFL Regional Combine Invitational, he still managed to make an active roster spot of an NFL team as an undrafted free agent.
As a member of the Texans, Smith continued to wait, but was always encouraged. After weeks of standing on the sideline, his number was called in Week 16 and he did not disappoint.
"Yes, I am encouraged," said Smith. "They gave me a chance to make a play and I came through. At the moment, it felt good."
Smith played in six games this season, including a start against the New England Patriots in Week One. The 6-3, 200-pound speedy receiver made his first NFL catch in Week Three against the New York Giants for 28 yards.
There is no secret about Smith's talent. He just needed the right opportunity. And it presented itself.
"Vynce is a speed guy that can run," said Texans quarterback Deshaun Watson. "He's been working hard all season. His time was going to come and his opportunity came, and took advantage of it.
"He did a good job of securing the ball and getting his body inbounds and making a great play for us."
Vyncint Smith/Google Images
Down by six with 2:11 left in regulation facing third-and-11 from the Eagles' 35-yard line, Watson took the ball from shotgun formation, stood in the pocket and threw deep down the middle of the field. Smith beat Eagles cornerback Rasul Douglas deep into the endzone and caught the pass while sliding down.
The play was reviewed and the touchdown upheld, giving the Texans an eventual one point lead. Pro Bowl receiver and teammate DeAndre Hopkins was one of Smith's biggest cheerleaders.
"Oh, man. Vync, he's been making plays in practice since he got here. We know we can count on him to go deep, exactly like we did today," said Hopkins.
For a moment, Smith's touchdown placed the number two seed of the AFC into the Texans' hands until the Eagles ripped it out  following a last minute field goal. Clearly, Smith's play was a huge deal.
"He did a good job. He's been getting better in practice, and he did an excellent job on that play. He made a big play." said Texans head coach Bill O'Brien.
SIMONSON CROSS THE GOAL LINE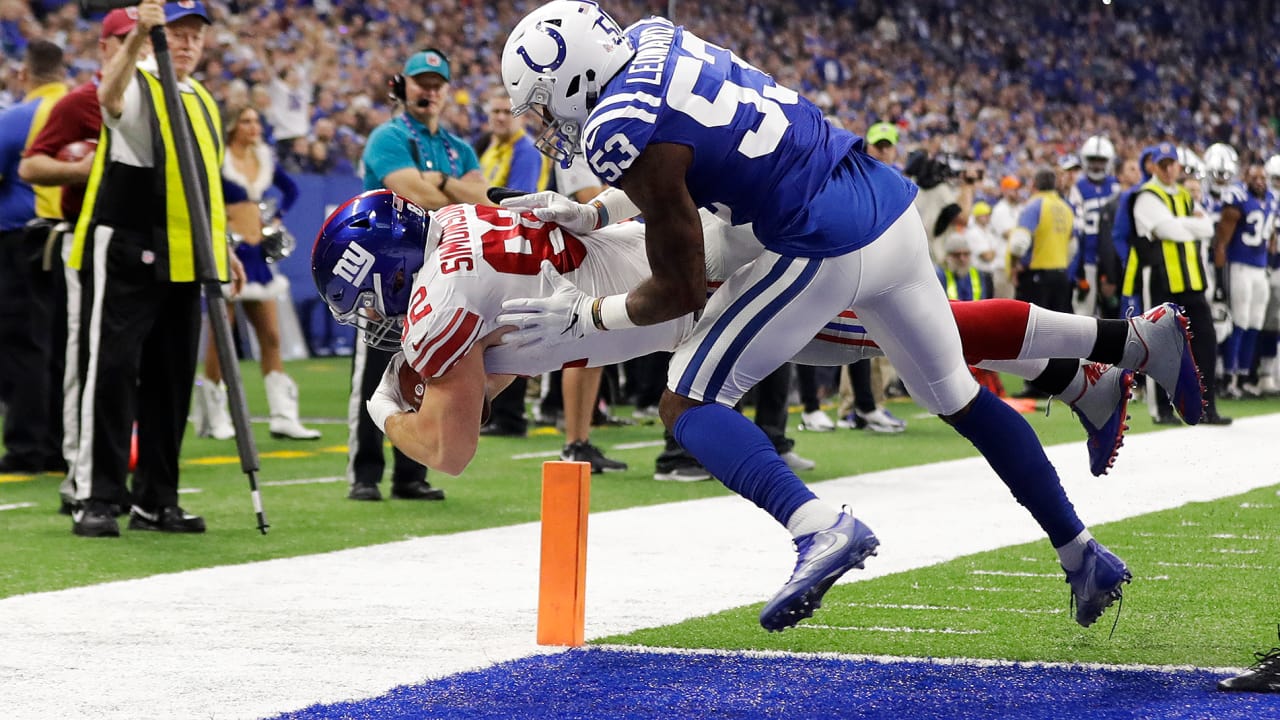 Scott Simonson/Google Images
After four seasons in the NFL, New York Giants tight end Scott Simonson earned his first NFL touchdown.
Simonson made personal history in the first quarter with 7:07 left on the clock when the Giants faced first-and-goal from the Indianapolis Colts' 3-yard line. Giants quarterback Eli Manning took the snap from center, faked a hand off and rolled outside to the right on a bootleg and threw a dart to Simonson at the 2-yard line. The first year tight end for the Giants dove towards the corner pylon.
Simonson ventured through the RC in 2014. The Assumption College standout was a member of the Oakland Raiders and Carolina Panthers, primarily on their practice squads. Simonson played in Super Bowl 50 with the Panthers, but was utilized as more of a blocking tight end.
With the Giants this season, Simonson earned many targets and had other opportunities to score. However, Simonson made good on this touchdown try and after being healthy all season, he looks to finish strong against the Dallas Cowboys in Week 17.
THE RUNDOWN
-San Francisco 49ers quarterback Nick Mullens put the Chicago Bears' defense to the test and nearly putted off an upset. He completed 22 passes out of 38 attempts for 241 yards, a touchdown and an interception, which came late in the fourth quarter as another pass came off a receiver's hand.
-Los Angeles Chargers linebacker Jatavis Brown racked up eight tackles against the Baltimore Ravens.