The Washington Redskins probably do not realize this, but they manage to always find secondary talents from the NFL Regional Combine platform as they welcome defensive back Jason Thompson to their practice squad.
Thompson possesses the size and tools needed to be successful in the NFL. The agile safety has great footwork and leaping ability. As an added bonus, the University of Utah talent has strong hand with the ability to make plays when the ball is in flight.
Thompson is like a Swiss army knife. He was a quarterback and defensive back in high school (Kennedy Catholic). He went to the University of Wyoming where he performed in different positions. Transferred to Utah where ultimately excelled as a defensive back.
Thompson ventured through the NFL Regional Combine in 2017 when he participated in the Seattle-held trials. The 6-2, 208-pound defensive back put on a show in the Seahawks' practice facility. After a solid workout in Seattle, Thompson did not have an issue signing with a club as he signed with the New England Patriots.
With Thompson's experience, he can adapt in any situation, however, sticking with the right squad has been challenge.
Thompson short stints with the Patriots, Chicago Bears, Dallas Cowboys and Tennessee Titans.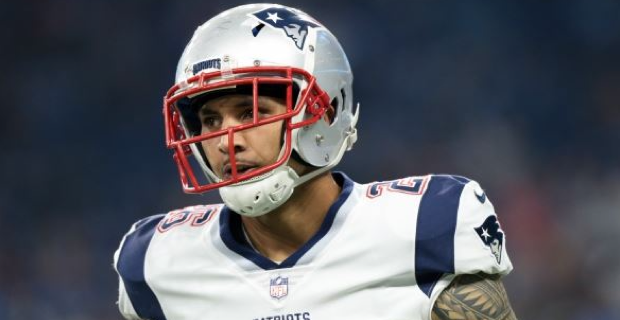 Jason Thompson/Google Images
Clearly, Thompson's talents are recognized and Washington could be the perfect place for his skill set to manifest.
The Redskins has solid depth in the secondary. They are aggressive as they rank 13th-best against the pass, but play better situational football than seasons past. A good upcoming team should always be ready to reload in the back end.
The Burgundy and Gold has been working with defensive back talents from the RC for the past several years, starting with Akeem Davis in 2014. Dashaun Phillips spent a couple seasons in Washington, but struggled to stay healthy.
Enter Quinton Dunbar, who is now one the Redskins' best defensive backs. Dunbar was a wide receiver at the University of Florida. When he signed with the Redskins in 2015, the Skins were deep at the receiving position. When Redskins head coach Jay Gruden approached Dunbar about playing on the defensive side on the ball, he accepted and took off from there.
The Redskins promoted linebacker Cassanova McKinzy to the active and placed safety Troy Apke on reserve/injured list. The Redskins presented Thompson with an opportunity, and now, they may have found another gem from the platform to make them much stronger in the back end.
"(I'm) just keep grinding, you never know when you'll get an opportunity," said Thompson via text. "So, stay prepared."