The Jacksonville Jaguars are poised with the talent to compete in the AFC South and beyond. They are just a quarterback away from making the divisional chase again. Quarterback Nick Foles, has a four-year, $88 million contract for the short-term, but don't count out signal caller Alex McGough as their long-term answer.
McGough had a solid four years at Florida International, where he completed 60.4 percent of his passes. He threw for 9,091 and had a collegiate career quarterback rating of 128.2 (both are school records).
Against Temple in the Gasparilla Bowl in 2017, McGough left the game early due to a fractured collarbone. With questions surrounding his recovery, McGough was not invited to the NFL Scouting Combine. Instead, he accepted the NFL Regional Combine Invitational and did not disappoint.
McGough showcased his arm strength as fired off NFL caliber passes with confidence and highlighted solid footwork in and out the pocket.
After a stellar trial at the RC invitational, many teams showed interest. The Seattle Seahawks were impressed the most as they selected him in the seventh-round (220th-overall) of the 2018 NFL Draft.
After practicing behind Pro Bowl quarterback Russell Wilson, McGough emulated the Super Bowl winning quarterback. The 6-3, 220-pound field general displayed a calm pressure in the pocket during the preseason, and on the run, he throws a tight sparrow with accuracy. His awareness and vision was impressive.
McGough garnered the Seahawks respect and earned his way onto their practice squad.
Just imagine if Wilson was 6-3. McGough gave that depiction.
Whatever the inner workings were behind the scenes, the Jaguars – a team that needed a quarterback – signed McGough off the Seahawks practice squad and he has been solid since being in camp.
After the Foles signing, the opportunity of starting this season closed for McGough, however, following the release of Cody Kessler, the No. 2 quarterback battle began. Jaguars executive vice president of football operations Tom Coughlin likes his young quarterbacks–McGough, Gardner Minshew and Tanner Lee .
"I like the group." said Coughlin, according to Jagswire. "I like the young ones and the way that they've fallen in, if you will, and they're working hard. (…) I just think these guys (as a group) are a step up from where we've been and quite frankly I look forward to all the competition that goes with the way they will compete in camp and participate in games."
The emergence of NFL Regional Combine pioneer and San Francisco 49ers quarterback Nick Mullens last season is an indicator that opportunity may knock for McGough.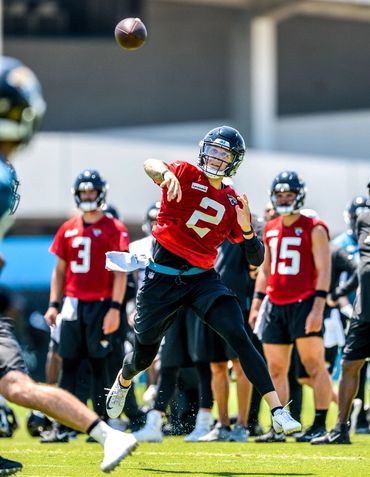 Foles earned this opportunity with the Jags.
Nevertheless, the RC pioneer in McGough may be the Jaguars' ultimate long-term solution, and roar once again in the south and – throughout the NFL.