Week Two of the NFL preseason featured strong performances by some NFL Regional Combine players. Making plays are important, but believing in the process is just as vital.
HOUSTON TEXANS VS. SAN FRANCISCO 49ERS
Out of all the positions, wide receivers must run hard at one hundred percent on every snap all of the time, despite knowing they will not be targeted. Still, pass catchers must always be ready. Houston Texans rookie wide receiver Vyncint Smith is experiencing that now, and he has embraced it.
Smith participated in the NFL Regional Combine Invitational, showcasing his excellent abilities in front of NFL scouts and team personnel. Clearly, the Texans won the prize for Limestone College's finest.
Smith was targeted five times throughout this week's contest when he stepped onto the field in the second quarter. He caught a short pass for two yards in the second quarter when he hooked up with quarterback Brandon Weeden with 7:24 remaining. The next three passes were incomplete, one attempt was intercepted. With :34 seconds left in regulation, Smith's number was called once more.
Down 13-10 from the 49ers' 41-yard line, facing second-and-10, journeyman quarterback Joe Webb threw deep over the middle to Smith, who hauled the pass in and rolled into the endzone. The call on the field was a touchdown. After an official review, the touchdown ruling was confirmed as Smith was not down by contact. Smith came through in game-winning fashion, making it a special moment.
"It was very special to get my first touchdown," said Smith, according to click2houston.com. "Second catch and it's the biggest play of my NFL career so far. I'm enjoying it either way."
"(I) just read the defense and ran down the middle of the field and read which way I should go. I kept my eyes on Joe (Webb III) and (he) stepped up and made a good throw."
Smith finished the contest with two catches for 43 yards and a score.
Teammate tight end Matt Lengel caught a pass for five yards.
In Week One, San Francisco 49ers quarterback and NFL Regional Combine pioneer Nick Mullens were the heroes. In Week Two, Mullens still finished strong after completing six out of seven attempts for 87 yards and an interception.
SEATTLE SEAHAWKS VS. LOS ANGELES CHARGERS
In terms of being heroic, Seahawks rookie quarterback Alex McGough was close in wearing Superman's cape.
Down 21-6 midway through the fourth quarter with 6:01 left, McGough connected with wide receiver Cyril Grayson, Jr. on a deep 39-yard completion down the right side of the field in cover-two coverage.
Three plays later McGough operated in the no-huddle offense, checked off to the left and quickly tossed a perfect pass in the direction of the deep post in the right corner of the endzone to rookie wide receiver Malik Turner for the score.
McGough followed up with the two-point conversion to end the drive. Unfortunately, he and the Seahawks did not get the ball back as the Chargers recognized that McGough was getting hot and probably would have led a comeback. What a solid outing for the Florida International standout who mirrors the field general he is competing to backup, Russell Wilson.
Across from McGough were pioneers from the RC platform in linebacker Jatavis Brown and cornerback Jeff Richards. Brown finished with three tackles, including a sack when he ran down Wilson in the first quarter with 11:50 remaining, forcing them to punt.
Richards led the team in tackles with five.
PITTSBURGH STEELERS VS. GREEN BAY PACKERS
Robert Tonyan/Google Images
The Packers welcomed tight end Jimmy Graham as a huge target for future Hall of Fame quarterback Aaaron Rodgers. The Packers may have to make room for tight end Robert Tonyan, Jr. as well. The 6-5, 237-pound tight end is quietly demonstrating he can be reliable in the receiving game as he caught all three of his attempts, including his first touchdown as a Packer.
With :41 seconds left in the first half, the Packers faced a second-and-1 from the Steelers' 1-yard line. Quarterback DeShone Kizer received the snap from shotgun and threw a fade to the right to Tonyan. The undrafted tight end adjusted his body and snatched the ball out of the air from the Steelers' first round draft pick rookie cornerback Terrell Edmunds.
Tonyan finished the contest with three catches for 20 yards and a score.
Packers cornerback Donatello Brown registered three tackles.
LOS ANGELES RAMS VS. OAKLAND RAIDERS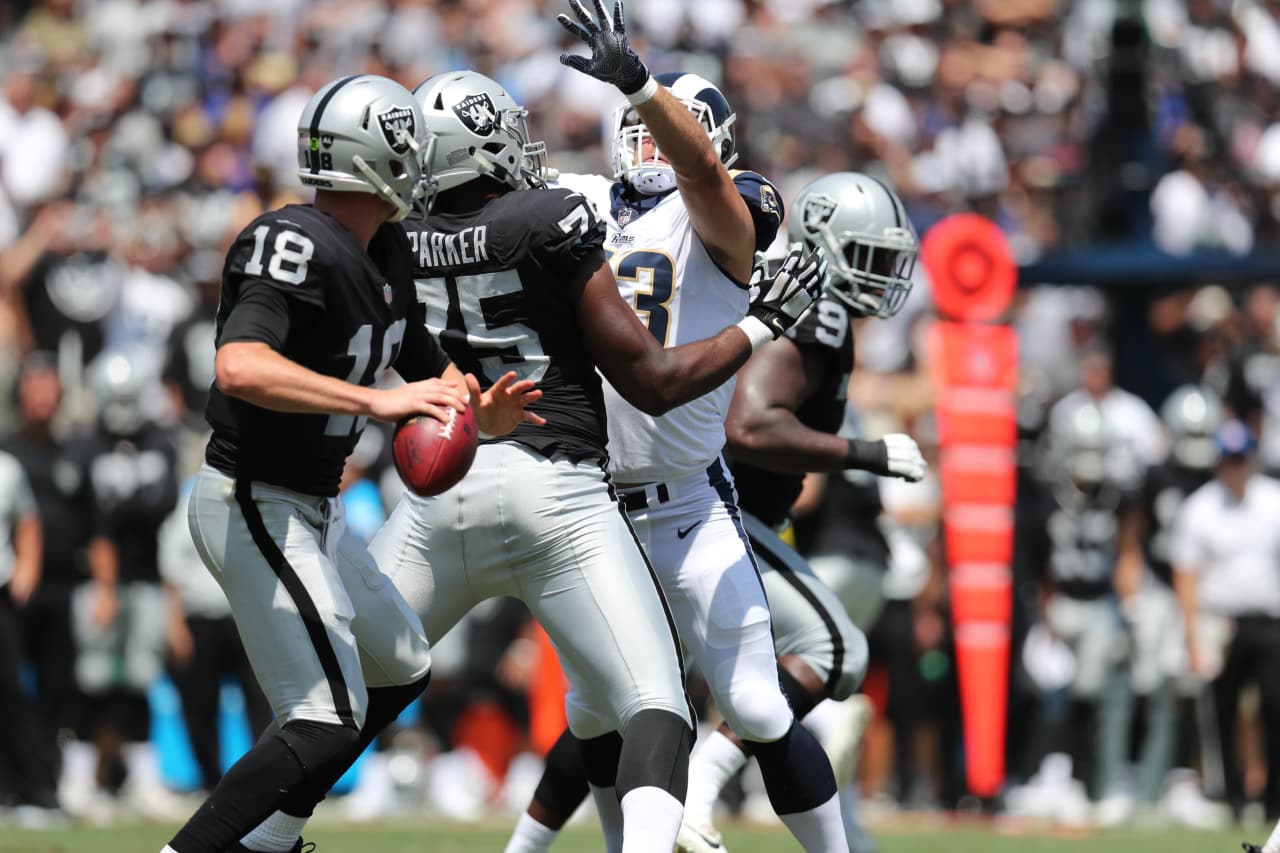 Justin Lawler (center)/therams.com
Rams rookie defensive end Justin Lawler is a flat out beast.
Lawler was in the defensive lineup in the first quarter and closed out the final :52 seconds with a bang. On second-and-10 from Oakland's 38-yard line, Raiders quarterback Connor Cook was in shotgun when he received the snap. Lawler bull rushed rookie tackle Brandon Parker into Cook causing him to fumble, and Rams linebacker Ramik Wilson scooped up the ball for a 16-yard pick up.
The turnover led to the Rams first touchdown of the contest. Lawler finished with two tackles, while Rams receiver Mike Thomas had a reception for 17 yards.
CHICAGO BEARS VS. DENVER BRONCOS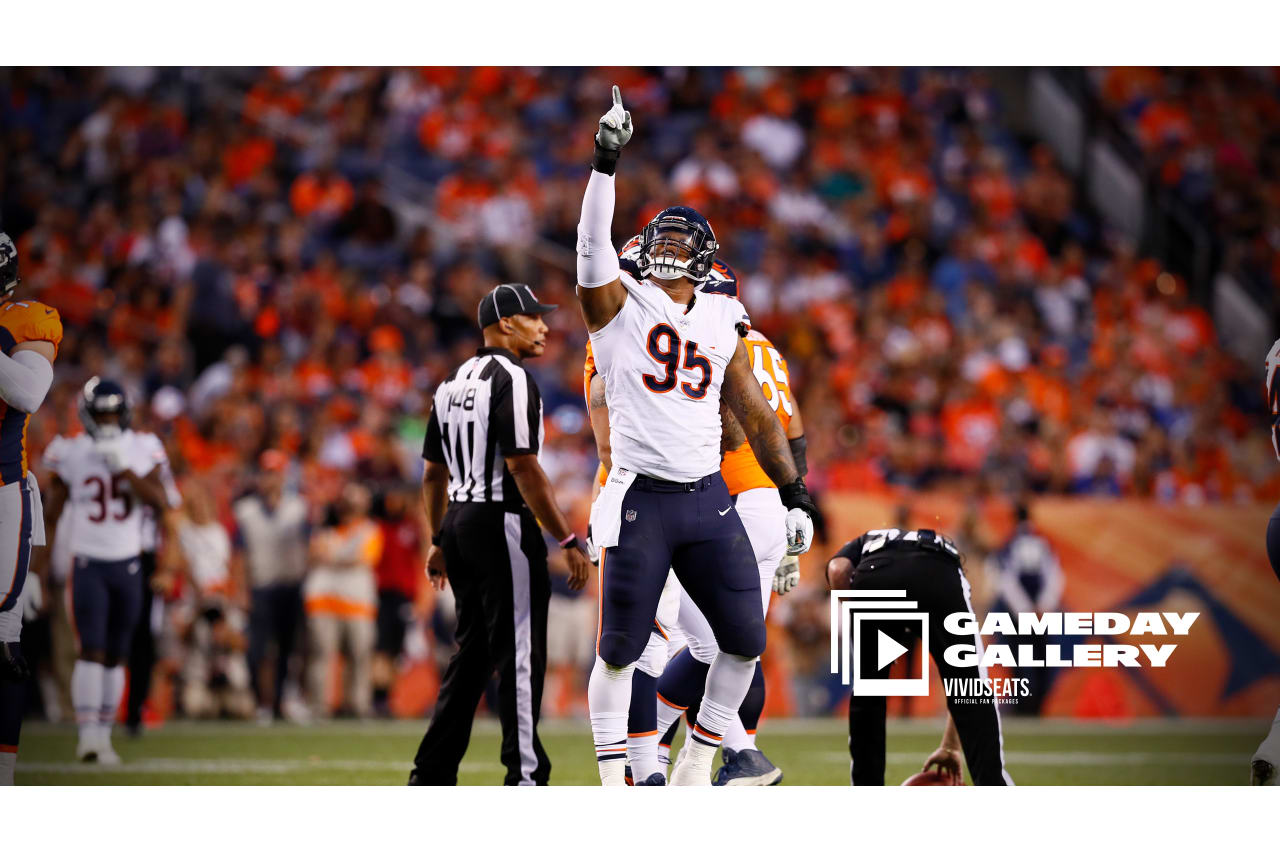 Roy Robertson-Harris/chicagobears.com
Getting to the quarterback is starting to be easier for Bears defensive end Roy Robertson-Harris as he is becoming a quality pass rusher.
In the second quarter with 12:43 on the clock, Broncos quarterback Case Keenum was operating in a no-huddle offense when Harris peeled off the edge to sack him for a one-yard loss.
Harris was not finished.
In the fourth quarter with 10:33 remaining in regulation, Broncos quarterback Paxton Lynch was next on Harris' menu when he, along with defensive tackle John Jenkins, brought Lynch to the turf.
Harris is having an impressive preseason.
"He put on a little weight in the offseason, still came in with that explosion, that twitch and that raw athleticism that you want up there," said teammate linebacker Danny Trevathan. "I've been pleased with him, I'm excited for him."
"… He's a playmaker, he's a guy that plays quick with that twitch and he loves the game of football. You can't coach that."
ARIZONA CARDINALS VS. NEW ORLEANS SAINTS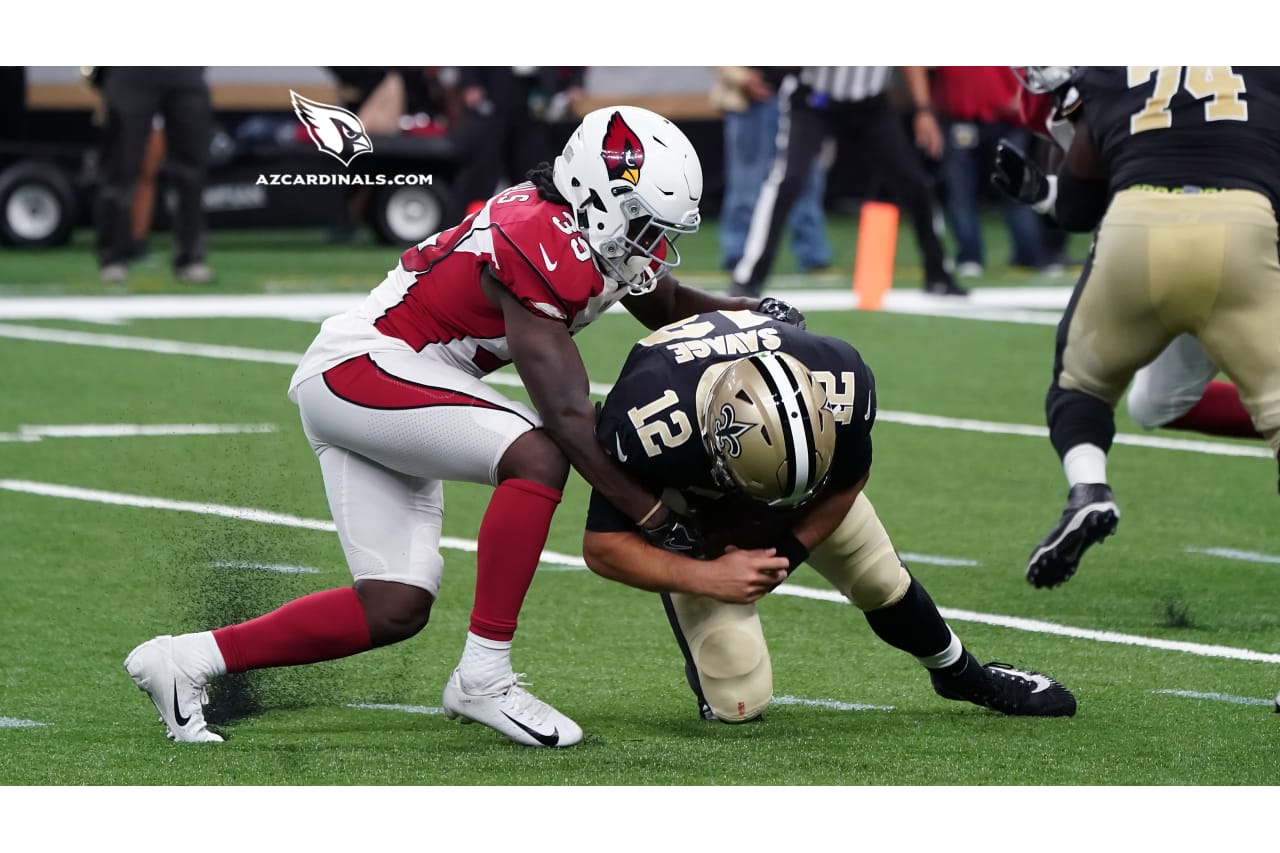 Deatrick Nichols/azcardinals.com
Cardinals cornerback Deatrick Nichols is a confident player who plays bigger than his size. When he attended the Tampa-held trials this year for the NFL Regional Combine, the 5-10, 189-pound talent wanted to prove that this level of football is not too big for him. Against the Saints, Nichols' skill set was evident. He racked up five tackles, including a sack and two stops for losses.
On third-and-5 from the Cardinals' five-yard line with 13:38 remaining in the game, Saints quarterback Tom Savage was in shotgun formation and looked to throw for a touchdown. Nichols blitzed in at full speed to sack Savage for an eight yard loss. The play forced the Saints to kick a field goal and helped the Cardinals seal the eventual win.
Cardinals defensive end Benson Mayowa finished with two tackles.
For the Saints, defensive tackle Woodrow Hamilton recorded two tackles, while cornerback Chris Banjo and defensive end Alex Jenkins each registered a tackle.
Great stuff. Week Three will be even greater.