The NFL preseason is great for a number of reasons, and Los Angeles Chargers linebacker Jatavis Brown – a NFL Regional Combine pioneer – is an example of one of those great reasons – to serve notice.
Brown is a quiet leader who commands the respect of his peers, including his All-Pro teammates. When he went down to an ankle injury before the 2018 playoffs, the Chargers definitely missed his leadership when they most needed him against the eventual Super Bowl champion New England Patriots.
As one of the Chargers' top tacklers, Brown showcased a solid performance in his first action since his injury and was worthy of midseason praise.
"It felt great. It always feels good to be back out there playing what I love to play and to be out there with my teammates, my brothers," stated Brown. I was getting the work in practice. I felt pretty comfortable going out there. It was just going out there and trusting my abilities."
Chargers head coach Anthony Lynn was glad to see his versatile linebacker on the field.
"(Brown) first time getting some live, full-speed game reps," said Lynn. "He's a guy that can line up and play all three linebacker positions. His versatility is really important to our defense and it's good to see him back on the football field."
Brown was all over the Seattle Seahawks as he led the Chargers, as usual, in tackles with seven.
Along with Brown who was creating terror was defensive end Patrick Afriyie, who came through the NFL Regional Combine process in 2018. After being on the practice squad in his rookie season last year, it is statement time for the product of Colgate as he racked up four tackles.
BEARING DOWN
The Chicago Bears are picking up from where they were last season, but led by their defense, they are looking for a different outcome this campaign.
Linebacker Jameer Thurman is working towards being a part of the run this campaign.
Fresh from winning the Grey Cup in the CFL with the Calgary Stampeders, Thurman has brought his passion and fire to the NFL and it has been displayed from the first day of practice and continues on through Week Three of the preseason.
Thurman blitzed the Indianapolis Colts for eight tackles and his brilliance on the special teams has been solid.
Not to be undone, defensive tackle Abdullah Anderson recorded three tackles, while defensive end Roy Robertson-Harris finished with two stops.
HAMILTON GOT AFTER THE PATS
Whether an organization releases, waives or does not pay a player their worth, it boils down to – they did not want him. The New England Patriots are known for moving on from players and it does not always set well.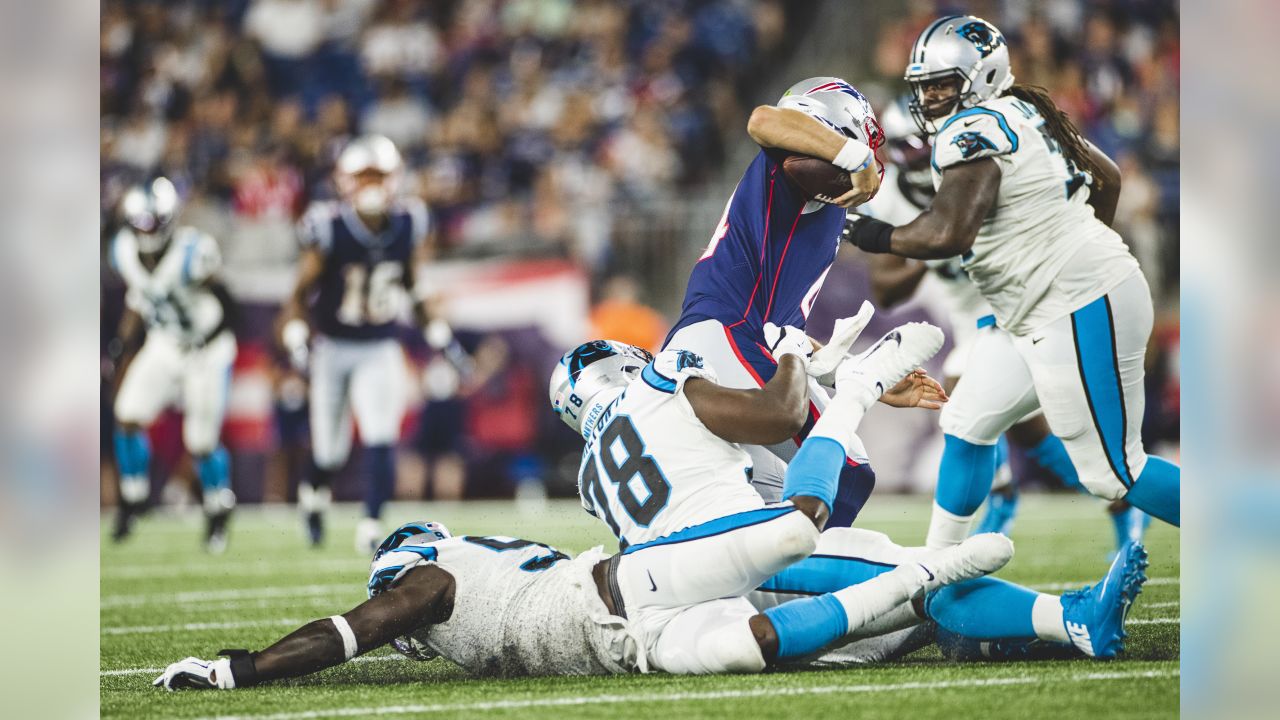 And in Week Three, Carolina Panthers defensive tackle Woodrow Hamilton had an opportunity to express his feeling about the separation by pounding the Panthers' offense and amassed five tackles, including a sack.
On the Patriots' first play from scrimmage during their second possession in the third quarter with 3:20 remaining, rookie quarterback Jarrett Stidham received the ball from snap. Hamilton got a quick jump and sacked Stidham for an one-yard loss.
Along side of Hamilton, defensive end Efe Obada has come into his own this preseason and shown he can be an impact player for the Panthers. The foreign-born star from Nigeria helped to hold the reigning champs to three points in the second half with his four tackles, including a sack.
DAVIS TO THE HOUSE
A huge showing from Green Bay Packers wide receiver Trevor Davis was needed for this preseason and Davis has been delivering. With Davis' best output of the exhibition season, he finished with five receptions for 78 yards (to lead the team), including a touchdown against the Oakland Raiders.
With 13:19 left in the half, the Packers faced third-and-3 from the Raiders' 23-yard line. Packers quarterback Tim Boyle received the snap from shotgun formation, checked out to his right and threw a deep, high pass to Davis. Amazingly, Davis leaped over Raiders cornerback Nick Nelson and snatched the ball over him to side step into the endzone.
After six targets and hauling in five catches, plus a carry for 18 yards, Davis was strong in Week Three.
Packers tight end Robert Tonyan finished with a catch for 11 yards.
THE RUNDOWN
This could be a make or break season for Los Angeles Rams wide receiver Mike Thomas. So far, he is making it happen this preseason. Against the Denver Broncos, Thomas led the team with 76 receiving yards off three receptions.
San Francisco 49ers quarterback Nick Mullens completed eight out of 11 passing attempts for 84 yards, while running back Austin Walter had five carries for 19 yards.
The trio of RC veterans for the Buffalo Bills registered several stops. Linebackers Julian Stanford and Mike Love were making their presence known. Stanford amassed four tackles, while brought down two Detroit Lions. Cornerback Denzel Rice contributed to one tackle.
Lions defensive tackle Fred Jones had two tackles against the Bills.
In the battle for Texas, Houston Texans rookie wide receiver Tyron Johnson had a reception for six yards, while linebacker Tyrell Adams beasted with six finishes. For the Dallas Cowboys, wide receiver Reggie Davis had a catch for five yards, while cornerback C. J. Goodwin had a tackle and an interception, which he snatched over Johnson's head.
Washington Redskins cornerback Quinton Dunbar had three tackles against the Atlanta Falcons, and Falcons safety Kemal Ishmael followed up with three stops against the Redskins.
New York Giants defensive back Terrell Sinkfield had three tackles against the Cincinnati Bengals.
Minnesota Vikings wide receiver Brandon Zylstra had a reception for seven yards.