Week One of the NFL preseason was a grand opening for several new pioneers of the NFL Regional Combine platform. In San Francisco, a veteran and rookie stole the headlines as the RC talents continue to prove the platform's worth.
SAN FRANCISCO 49ERS vs. DALLAS COWBOYS
Quarterback Nick Mullens got the start for the 49ers against the Dallas Cowboys and he picked up where he left off from his outstanding season last year – including some of the same unfortunate situations, great balls thrown and receivers mishandled passes which led to drops and turnovers.
Still, compared to last year, Mullens pushed through and finished strong.
"I felt good, I felt solid," said Mullens. "Obviously, you don't want to turn the ball over, but overall, just making very good decisions, smart, accurate, putting the ball in the right places. So, it's a step. Camp is a long process, so that's one step down."
Mullens completed 11-of-17 passes for 105 yards, one touchdown and one interception, finishing with a 76.8 quarterback rating.
Partnering Mullens from the platform was rookie running back Austin Walter. Walter was one of the three running backs the 49ers made available in their preseason opener, and he did not disappoint.
Walter led the backfield with 13 carries for 38 yards and finished second in receiving yards with 32 off five receptions. Walter demonstrated bounce, speed and power as he attacked the holes, not shying away from contact. Walter has definitely made a case for himself, early.
*Cowboys cornerback C. J. Goodwin finished with a tackle.
HOUSTON TEXANS VS GREEN BAY PACKERS
A handfull of RC players were on the field for this matchup and Texans rookie wide receiver Tyron Johnson took full advantage.
Johnson was targeted four times and hauled in two catches for 48 yards to lead the team. He showed good burst and athleticism.
On third-and-9 from Texans' 26-yard line, Texans quarterback Joe Webb was under pressure, scrambled and heaved the ball deep down the field. Johnson locked his eyes on the ball and hauled it in for a 44-yard gain. Johnson's play helped jump start a Texans' comeback.
Texans rookie safety Chris Johnson finished with a tackle, while linebacker B.J. Bello recorded two stops.
On the Packers' side of the ball, wide receiver Jawill Davis had a return for 24 yards and tight end Robert Tonyan had a reception for 23 yards.
DEFENSE UNLEASHED
The Miami Dolphins recognize that rookie cornerback Nik Needham is out for blood, and an active roster spot. So, they threw him into the fire as a starter.
After shaking early jitters, and being challenged early, Needham settled down and recovered well.
"I think Nik has had a good camp," stated Dolphins head coach Brian Flores. "I think he's had a solid camp, he's worked hard, he's gotten better, he's been consistent really throughout the spring and in these training camp practices. I think tonight he struggled.
"But I still have a lot of confidence in Nik Needham. There's been a lot of tough games for a lot of young corners in this league. It's definitely a learning process."
Needham finished his first NFL outing with four tackles and two passes defensed.
Cleveland Browns defensive back Tigie Sankoh, who is a part of the NFL International Player Pathway program, got the opportunity to make his presence felt in the NFL, and Washington Redskins quarterback Josh Woodrum was on the receiving end of the Sankoh's debut.
With 1:20 left in the regulation, the Redskins were on the second-and-11 on their 46-yard line. Woodrum received the ball from shotgun. The Browns showed blitz, but dropped back when the ball was snap except for Sankoh.
Sankoh attack Woodrum at full speed, untouched, and destroyed Woodrum causing him to fumble. The Redskins recovered the ball, however, it took Woodrum a few minutes to get up.
In Chicago, a trio of NFL Regional Combine standouts put in work, especially defensive tackle Abdullah Anderson who registered four tackles.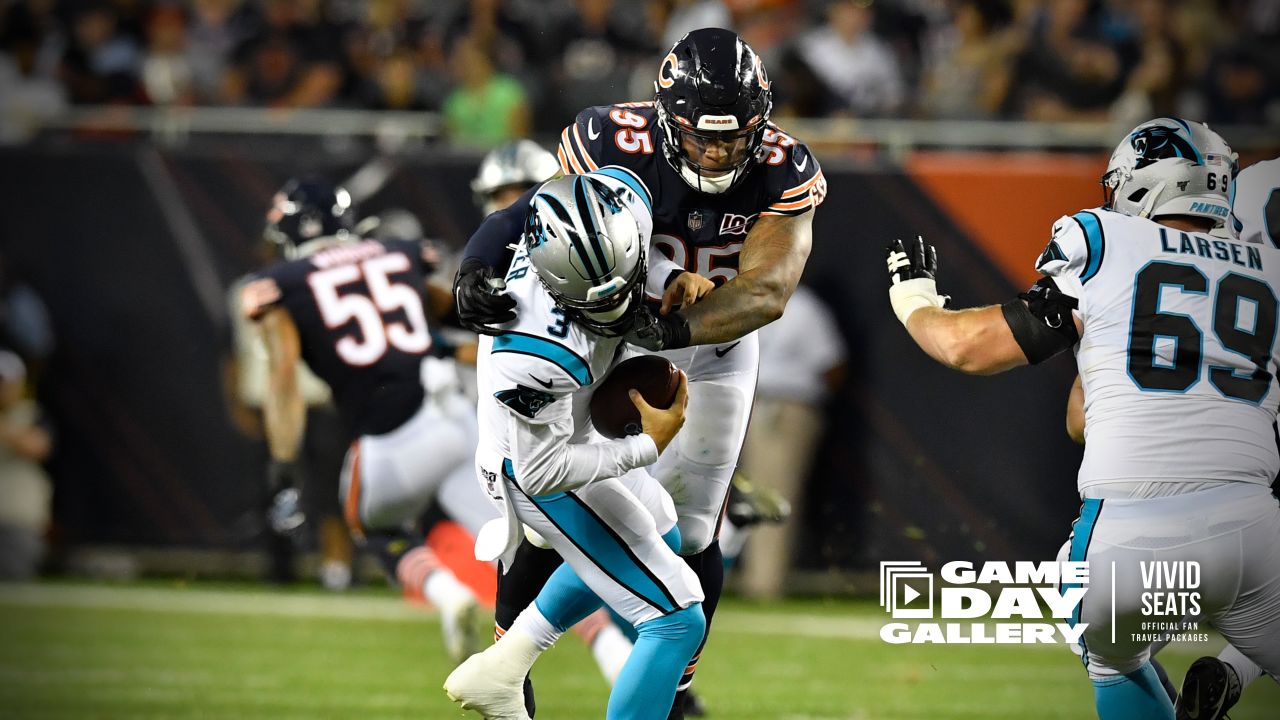 Bears defensive end Roy Robertson-Harris displayed his midseason form with two stops, including a sack for a loss of seven yards. With 1:26 left before the half, Carolina Panthers quarterback Will Grier faced first-and-10 from the 50-yard line. He received the ball from shotgun and Robertson-Harris through for the sack.
Newcomer linebacker Jameer Thurman recorded his first NFL tackle.
THE RUNDOWN