The NFL preseason got off to a fast start with fantastic finishes and solid debuts from the NFL Regional Combine pioneers.
And nothing was better than the performance by San Francisco 49ers quarterback Nick Mullens against the Dallas Cowboys Friday.
SAN FRANCISCO 49ERS VS. DALLAS COWBOYS
Mullens ventured through the NFL Regional Combine in 2017 when he attended the New Orleans' trials. He signed as an undrafted free agent last season and made the team as a practice member.
Mullens checked into the recent contest on the 49ers' third series in the third quarter with 3:39 remaining when the 49ers were down 10 to 21. His first two sequences resulted into turnovers as running back Raheem Mostert fumbled and Mullens had a pass that was tipped and Cowboys defensive back Duke Thomas intercepted the ball.
When Mullens returned with 8:27 left in regulation, the former Southern Mississippi star showed what he was made off. Mullens took command of the huddle and threw the ball with confidence. Eight plays later, spanning 58 yards in 4:03, Mullens led the 49ers to a late touchdown making it a 21-16 game, which included a huge fourth-and-2 conversion when he went deep to wide receiver Victor Bolden Jr. for a 24-yard gain.
"It all starts with the quarterback," said 49ers running back Jeremy Nichols, who scored the touchdown on a one-yard run. "Nick came in confident with us in the huddle. I think that just carried on with everyone else. He went in and said, 'We are going to win this game.' Everybody felt that energy and we went down and won."
With 2:00 left in the game, Mullens and the 49ers had no timeouts left, which was not a problem at all. He went to work and he capped a six-play drive covering 77 yards with a seven-yard touchdown pass over the middle to wide receiver Richie James with :18 seconds remaining.
"I just really have to give credit to Nick," said James. "That was a good ball. It was in the right window. He did a really good job."
To seal the victory, Mullens connected with tight end Wes Saxton on a play-action pass for the two-point conversion. He finished the victory with 141 passing yards, after going 11 for 13, an interception and a touchdown.
Mullens is competing against C. J. Beathard to backup signal caller Jimmy Garoppolo. Beathard was drafted by the 49ers last season in the third round, 103rd-overall. Beathard may have the inside track, but Mullens has made a statement.
"It was an awesome moment, and an awesome moment for our team," voiced Mullens after the game. "The threes, we work together every day in practice. It was cool to just see us take advantage of our opportunities out there today. It was a lot of fun. Everybody was locked in and we finished strong."
"The receivers did a great job," Mullens added. "Guys that we work with every day, the guys up front, we were just very in-tune, very locked in. We walked through that every single day of camp and it was cool to see it translate to the field."
During those touchdown drives, Mullens hooked up with rookie wide receiver Steven Dunbar Jr. twice. Dunbar caught a pass for nine yards, however, his biggest catch came when he was johnny-on-the-spot for a 14-yard gain when rookie tight end Ross Dwelley bobbled a pass.
Dunbar finished with two catches for 23 yards.
TAMPA BAY BUCCANEERS VS. MIAMI DOLPHINS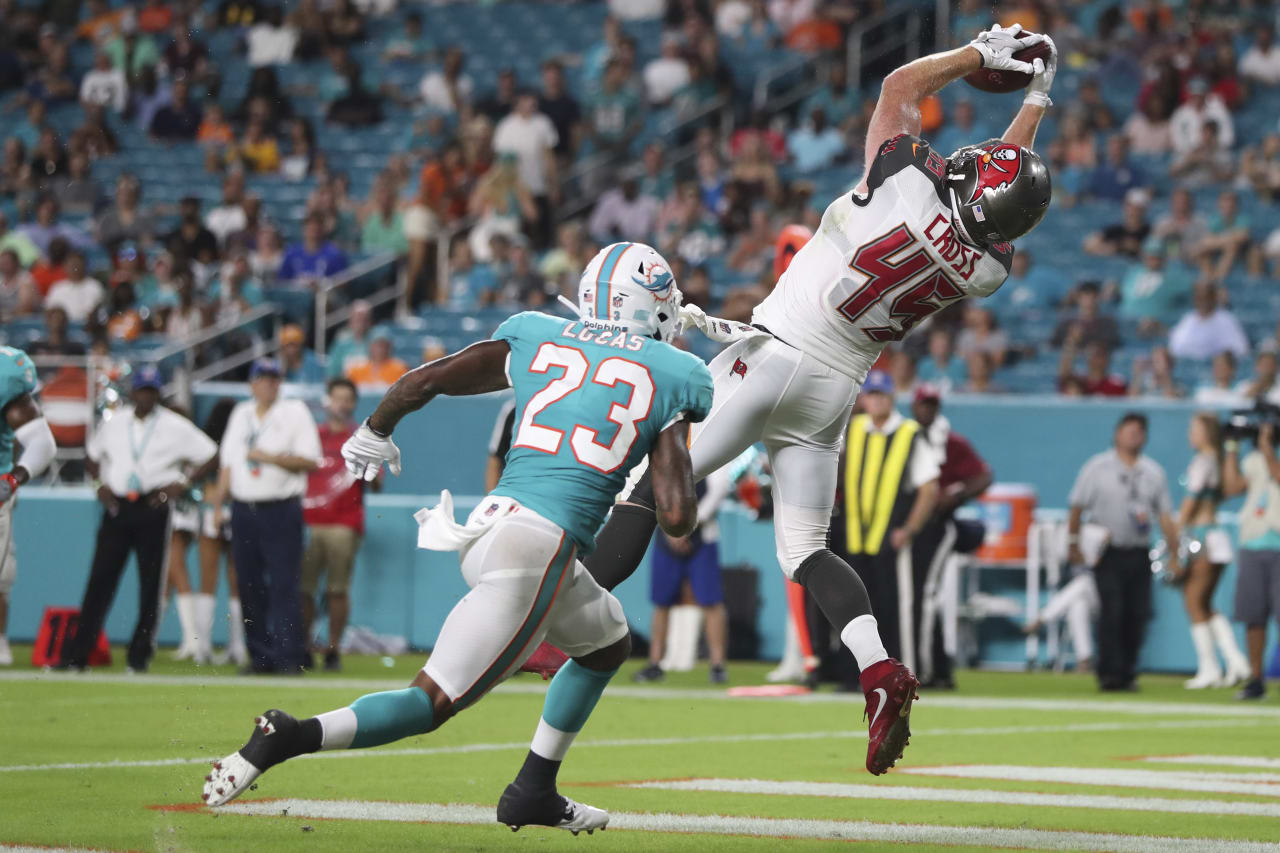 Alan Cross/buccaneers.com
In the matchup between the Buccaneers and Dolphins, Alan Cross is showing the Bucs he would be a better asset at his natural position than a full back – tight end.
When Cross signed as an undrafted free agent with the Bucs in 2016, he was tagged as a full back. Nevertheless, the Bucs used him in the back field as a pass catcher. Now, the 6-1, 235-pounder is a tight end.
In the third quarter with 5:45 left, the Bucs faced third-and-6 from the Dolphins' 10-yard line. Cross was lined up on the left on the inside, ran, faked to the outside and got behind the safety for a leaping catch at the back of the endzone for the touchdown.
Cross finished with two catches for 24 yards. Bucs wide receiver Jake Lampman got into the mix with two catches for 22 yards.
On the defense side of the ball, Bucs linebacker Nigel Harris was all over the place and racked up three tackles. Dolphins defensive end Jonathan Woodard has been banged up for the past couple of seasons. Now, Woodard is stronger, leaner and faster. He recorded four tackles.
PHILADELPHIA EAGLES VS. PITTSBURGH STEELERS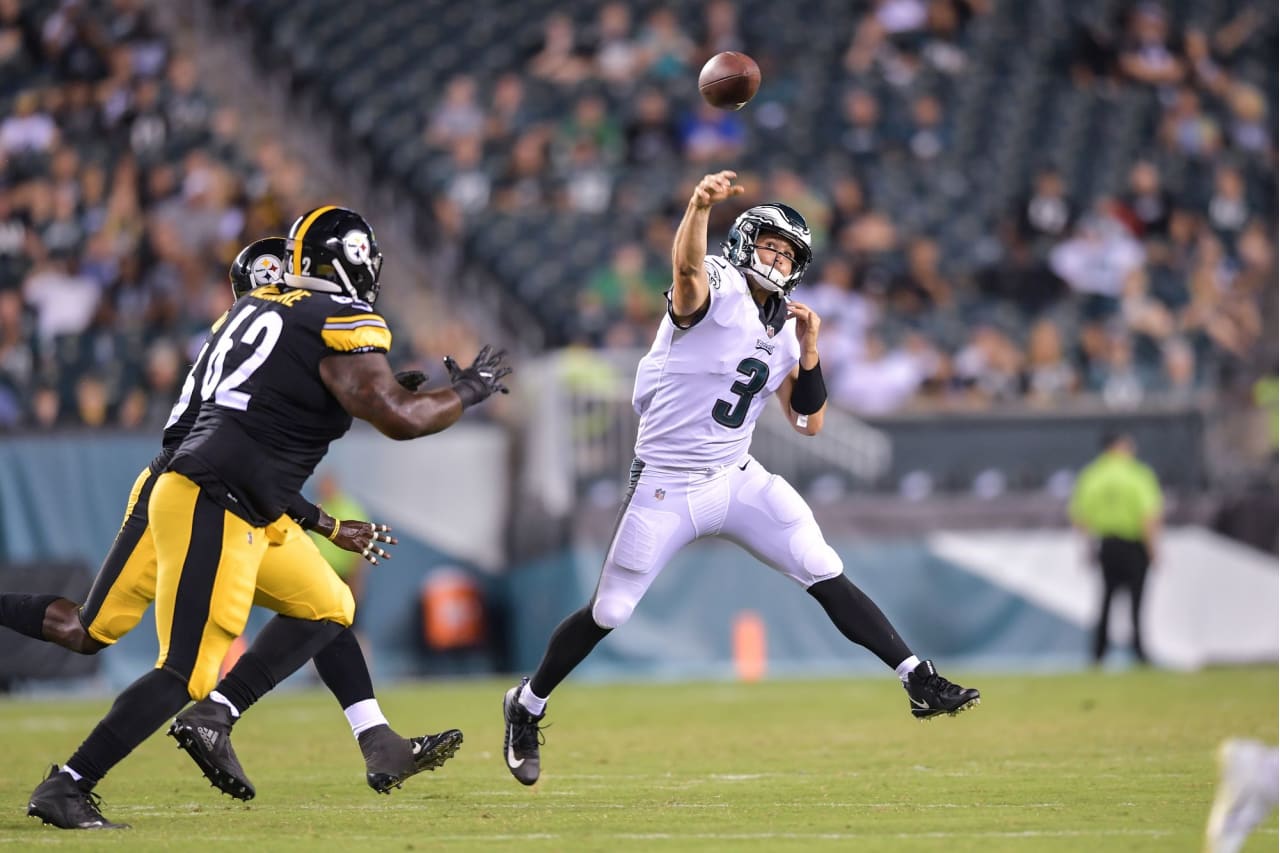 Joe Callahan/philadelphiaeagles.com
This contest was loaded with NFL Regional Combine standouts as both squads had a combination of nine talents.
Eagles quarterback Joe Callahan was decent in his debut as he completed 8 out of 18 passes for 91 yards. He also had two fumbles, but lost one of them.
Eagles rookie offensive lineman Jordan Mailata played well. The former rugby star saw his first NFL action in the second half. Linebacker Kamu Grugier-Hill has been a valuable player for the Eagles, and now, he is trying to cement his position with the defensive unit. He finished with six tackles to lead the Eagles. Rookie defensive end Joe Ostman does not stop as he is always on the hunt. He amassed three tackles.
Steelers defensive backs in Jordan Dangerfield and Dashaun Phillips witnessed some excitement. Dangerfield registered two tackles, while Phillips had a stop.
This may be a make or break season for Steelers wide receiver Marcus Tucker who spend the last two seasons on the practice squad. He hauled in two catches for 14 yards. International player Christian Scotland-Williamson experienced life on NFL turf for the first time. The rookie tight end caught a pass for five yards.
Both Mailata and Scotland-Williamson are a part of the NFL International Player Pathway program.
THE RUNDOWN
Roy Robertson-Harris/Chicagobears.com
-Cleveland Browns have several talented defensive players, and linebacker B.J. Bello is one of them. Bello is a specialist on special teams. This season, Bello wants to prove his worth on the defensive side of the ball. He led the Browns in tackles against the New York Giants with four. Bello is off to a great start, while defensive back Denzel Rice is following suit with two tackles.
-Los Angeles Rams rookie defensive end Justin Lawler was strong in his debut. The seventh-round draft pick blitzed the Baltimore Ravens for three tackles. Rams wide receiver Mike Thomas had a reception for four yards.
-Indianapolis Colts defensive back Kenny Moore ll picked up where he left off from last season – hot. He led the Colts in tackles with four.
-Seattle Seahawks rookie quarterback Alex McGough completed 10 out of 13 passes for 48 yards and rushed the ball once for seven yards.
-After a couple injuries and teams, tight Matt Lengel has found himself back on the field, this time with the Houston Texans. He debuted with two catches for 14 yards.
-New York Giants tight end Scott Simonson had a catch for five yards.
-Detroit Lions tight end Hakeem Valles had two catches for 26 yards.
-Buffalo Bills rookie defensive end Mike Love had two tackles.
-Carolina Panthers defensive end Efe Obada recorded a tackle.
-Chicago Bears defensive end Roy Robertson-Harris racked up three tackles.
-New Orleans Saints veteran defensive back Chris Banjo had a tackle.
-Kansas City Chiefs defensive back Robert Golden had a tackle.
-New York Jets defensive backs Xavier Coleman and Terrell Sinkfield had multiple stops. Coleman had three and Sinkfield recorded two.
Week Two of the preseason will be something special.