Defensive backs are the crown jewel players NFL scouts covet at the NFL Regional Combine trials. Year in and year out, it is the position with the most talents. Week Two will feature two up and coming cornerbacks who look to top each other for their team's success.
INDIANAPOLIS COLTS VS. WASHINGTON REDSKINS
When the Colts journey to Landover, MD to face the Redskins, they will face a proven quarterback in Alex Smith who will put his receivers in the best spots to succeed. To combat that, the Colts will move perhaps their best corner, Kenny Moore II,around the field.
Moore made his rookie debut last season, finishing strong with 38 tackles, five pass defensed and an interception. He stepped up big for Indy last week when he nearly scored his first career pick-six before getting tripped up at the Bengals' 12-yard line. The standout from Valdosta State finished with four tackles and an interception.
Redskins cornerback Quinton Dunbar has been inked as a starter opposite Pro Bowl cornerback Josh Norman. Dunbar brings an athletic, aggressive approach to the position and could give the Redskins one of the best cornerback combos in the league. When the Skins traded cornerback Kendall Fuller to the Kansas City Chiefs, the move signaled that Dunbar was going to play a significant roll in the secondary. One multi-year contract later, Dunbar established a home with Washington.
Dunbar did not disappoint in Week One as he tied a game-high of five tackles against the Arizona Cardinals. The converted wide receiver recorded another interception in that contest.
Moore and Dunbar are both physical playmakers who are ball hawks. The two RC pioneers will face solid quarterbacks and the game may come down to one of them making the play that will win the game.
Redskins quarterback Alex Smith is good working the middle of the field. Moore is aggressive playing against slot receivers. Against the Bengals, Moore played 40 snaps against the slot cornerback and 15 tries on the outside.
Keelan Cole (right)/Jaguars.com
Jacksonville Jaguars wide receiver Keenan Cole led his team in receiving yards in his rookie season last year and continues to lead after the Week One matchup with the New York Giants. But he has another important stat when the Jaguars play at home.
RELATED ARTICLES: The Combine Report: Week One – Robertson-Harris, Dunbar Use Their D As Calling Card
He will be looking to score his fourth consecutive touchdown at home when he battles the New England Patriots secondary Sunday. In Cole's past two home games, he registered 285 receiving yards (142.5 per game) and two touchdowns.
The big play receiver should haul in another touchdown to keep the streak going.
Adam Thielen continues to be the man for the Minnesota Vikings. He led the Vikings in receiving yards in Week One against the San Francisco 49ers as he racked up 102 yards off six catches. It should not be any different against the Green Bay Packers.
His career-high came against the Pack in 2016 when he amassed 12 catches for 202 yards and two touchdowns. Can Thielen duplicate that same performance? He is capable of doing that, so expect to see him put in some work.
WHO ELSE?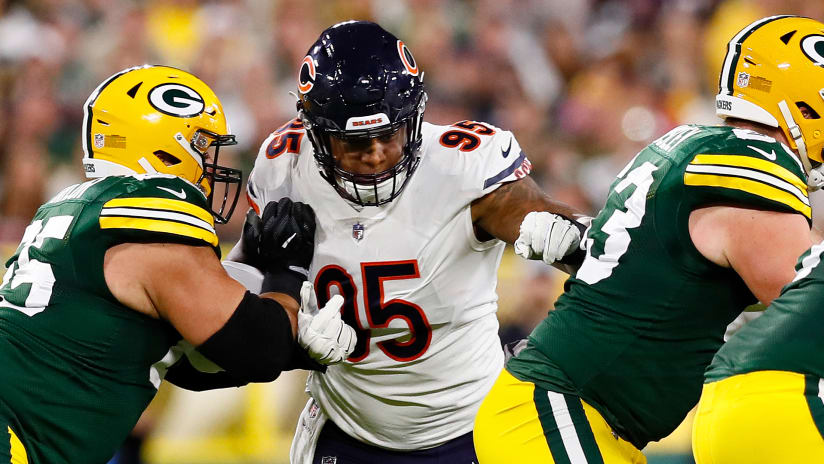 Roy-Robertson-Harris/Chicagobears.com
Chicago Bears defensive tackle Roy Robertson-Harris went to work against the Packers in Week One under the shining lights of Sunday Night Football. This week, Robertson-Harris will have the bright lights of Monday Night Football shadowing him when the Seattle Seahawks come to Chicago.
The Bears witnessed Robertson-Harris' progression, and he is ready for this moment.
"We knew once we moved him into the D-line room, it would be a process, and he's come along and done some really good things," said Bears defensive line coach Jay Rodgers, according to chicagobears.com. "He's always had natural pass rush ability. You saw that throughout the preseason and you saw that (Sunday) night.
"It's just a matter of him getting more experience in there to feel some of the things that you feel in the big man's world," he continued. "It's different inside than it is outside. He's had some experience outside in the past. Now he's moving inside and there's a lot less space in there and a lot bigger men in there. He's coming along, but there's always room for improvement."
After getting to Packers quarterback Aaron Rodgers, Robertson-Harris is confident and will be looking forward to hunting down the elusive Russell Wilson.