After several years away from the Bay area, defensive end and NFL Regional Combine pioneer Benson Mayowa returned to the Oakland Raiders on a one-year deal.
Mayowa journeyed through the RC platform in 2013 and signed with the Seattle Seahawks, where he won a Super Bowl ring in his rookie season.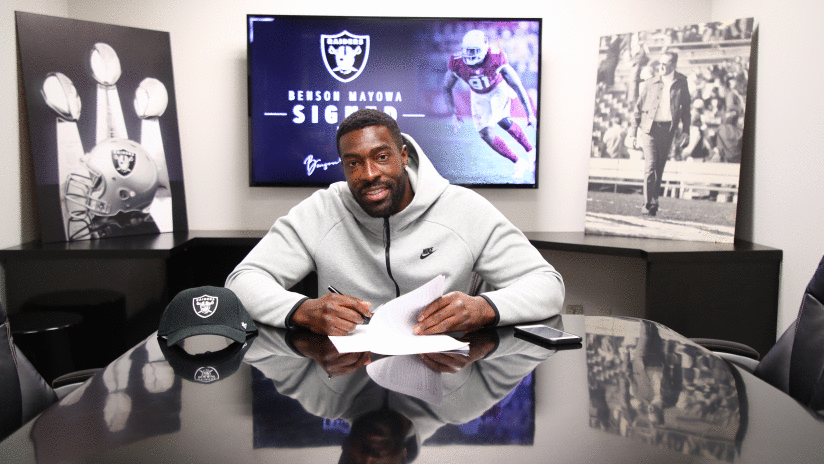 Benson Mayowa/Raiders.com
Following his stint with the Seahawks, Mayowa signed with the Raiders where he played for two seasons (2014-2015). The 6-3, 265-pound defensive lineman caught the Dallas Cowboys attention and wore a star on his helmet for two seasons.
However, Mayowa's best season in the NFL came last season as a member of the Arizona Cardinals. Mayowa had career-highs in both tackles 38, including 13 stops for losses, and passes defensed (four) in 15 appearances as a Cardinal. He also posted four sacks.
For the majority of his career, Mayowa was backing up other high caliber edge rushers. In his first stop in Oakland, there was Khalil Mack. In Dallas, defensive end DeMarcus Lawrence is the star on the defensive line. In Arizona, Chandler Jones reigns supreme and with the signing of future Hall of Famer Terrell Suggs, the writing was on the wall for Mayowa.
For Mayowa's six-year career, he performed in 72 games and made 15 starts. He recorded 110 tackles (68 solo), 13 sacks, five passes defensed, three forced fumbles and four fumble recoveries.
Since the Raiders are in great need of a pass rusher, Mayowa can fill the void and be featured. Despite having limited roles, Mayowa has repeatedly proved he can get after the quarterback. Mayowa had his career best in sacks (six) as a Cowboy in 2016.
In his reserve role the first time around as a Raider, Mayowa appeared in 28 games registering 32 tackles, including two sacks, a pass defensed, two forced fumbles and a fumble recovery.
If Mayowa performs on a high level for the Raiders during the 2019 NFL campaign, the 27-year old will finally get the payday he has been working towards since being in the NFL – and become the next RC legend to make the big bucks.